Bitcoin

---
Buying bitcoin at the end of the first day of the Chinese New Year and selling after ten trading days guarantees an average profit of more than 9%, Markus Thilen, director of research and strategy at Matrixport, found out.
For the last eight years from 2015 to 2022, the scheme has generated income in 100% of cases, the expert emphasized.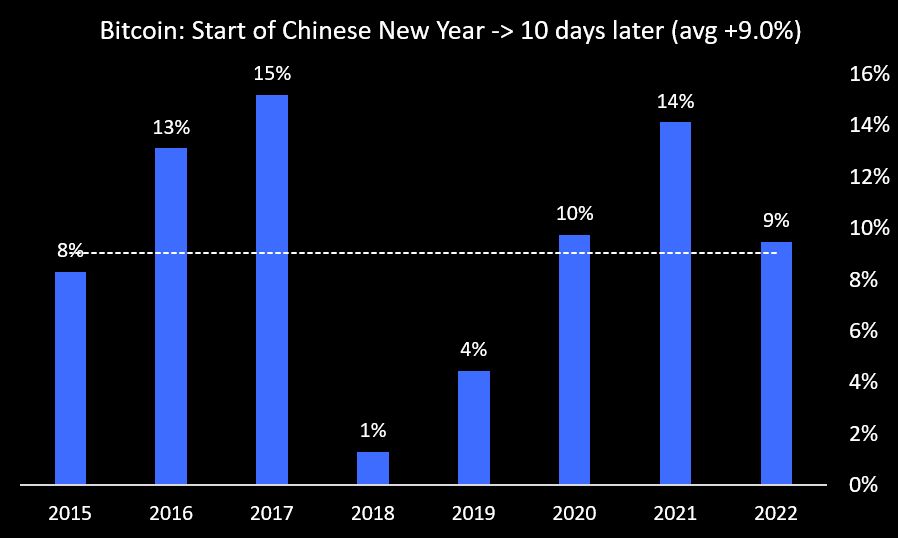 Data: LinkedIn.
Such an operation would bring the greatest profit in 2017 – 15%. Even in 2018, against the background of the previous crypto winter, the investor received income, although only 1%.
In 2023, to implement the scheme, it was necessary to buy digital gold on January 22, and sell the assets 10 days later on February 1.
On Sunday, the day of the proposed investment, Bitcoin was trading near the $22,900 mark. The asset did not hold the $23,000 level reached on Saturday for the first time since August 2022. According to Thilen's research, the cryptocurrency price should approach $25,000 by the beginning of February.
B2C2 OTC Risk Director Adam Farthing identified this mark as a key resistance to continue the current rally.
According to Thielen, the ideal timeframe for the cumulative average return on buying bitcoin at the beginning of the Chinese New Year is 15-19 days. As a rule, during this period, the cryptocurrency rises in price by about 12%.
In general, the expert considers the start of the Spring Festival an "attractive time" for entering long positions.
Recall that in mid-January, Bloomberg strategist Mike McGlone noted signs of the formation of a bottom for bitcoin, by analogy with the eve of the bullish phase in 2019.
---


#expert #revealed #scheme #guaranteed #earnings #bitcoin